NBE has negociated discounted fees for the conference participant at a limited number of hotels and "apparthotels" (see below). Rooms available at these discounted rates are in limited numbers so be sure to book them as early as possible. Upon registration be sure to mention the name of the conference (NanoBioEurope or NBE) to be eligeable to the discounted fees.
---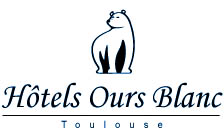 Located in the very heart of the Pink city, the three hotels Ours Blanc are at prime positions, close to 'Place Wilson, Victor Hugo and Capitole', near car parks, bicycle, stations, cinemas, theatres, restaurants, boutiques, department stores, historic monuments and museums. Air conditioned and sound-proofed, all the rooms combine comfort and convenience. The first NanoBioEurope delegates will be roomed at the Hotel Ours Blanc Centre***. Visit >>>
Fees :
60 rooms at 85€ per night,
breakfast offered on monday morning and invoiced at 7€ for following days,
Resort fee not included: 0.70€ per people and per day.
Booking :
By internet: via this mail wilson@hotel-oursblanc.com Mention "NanoBioEurope"
By phone : + 33 5 61 21 62 40 , specify "NanoBioEurope" when talking to Françoise or Jessica
---

Privilège Appart-Hôtel Guillaumet***
At the centre of Toulouse, in St-Michel, the Privilège Appart-Hôtel Guillaumet, is a new building where you can rent apartments (Breakfast extra). This hotel gives you access to the following facilities: fitness, field of "pétanque," badminton... Visit >>>
Fees:
Studio (17m²) - 65€ / night
T1 (27 m²) - 80€ / night
T2 (33 à 43 m²) - 105€ / night
T3 (50m²) - 155€ / night
Breakfast at 10€,
Resort fee not included: 0.90€ per people and per day.
Cleaning included
Booking:
By internet: Booked it by mail >>> (mention NanoBioEurope)
By phone: + 33 5 34 31 09 09 (mention NanoBioEurope)